...


Location/Logistics
Development
Prime Minister's Export
Award 1998
| | |
| --- | --- |
| Location/Logistics | |
| | |
| --- | --- |
| | With its flood-or-drought propensity, Northeast Thailand - or Issan as it is known locally is home to the country's poorest people. But in marked contrast, the Northeast is rich in culture and history from the days to the Khmer Empire in the 9th-13th centuries. It is also believed to be one of the first areas in the world where rice growing, bronze making and silk weaving began. |

In E-saan, it is said that the people are welcoming… the cuisine fiery… the silk and cotton handicrafts intricate and exquisite…
The ability of these northeastern artisans to create brilliant designs was what prompted Soonthorn Kraitrakul in 1987 to base his family business in the Northeastern capital city of Khonkaen - 500 kilometers northeast of the capital city Bangkok.
| | |
| --- | --- |
| Development | |
Putting to good use his specialized New Zealand training in woolen textiles for carpet making, Soonthorn Kraitrakul started Inter-Krai-a factory of just 10 employees manufacturing handwoven floor mats in 1987.


Leading name in custom made carpets

Things are a little different at Inter-Krai these days… Although still a family run business, Inter-Krai now employs over 300 people. We've grown to become one of Thailand's leading manufacturers of quality handtufted carpets for the export market. Inter-Krai's annual production capacity exceeds 600,000 sq. meters.

Although we specialize in hand tufted area rugs, the past few years has seen increasing demand for our wall-to-wall carpeting expertise. At present some 50% of our work is in area rugs with 30% in small mats and 20% in wall-to-wall carpets.

The EU and U.S. markets make up about 80% of our business with Australia and Asia accounting for the rest.
| | |
| --- | --- |
| Prime Minister's Export Award 1998 | |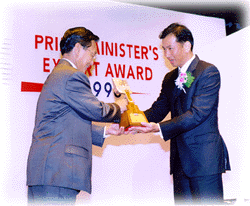 Inter-Krai wins prized award!

1998 has been a rather special year for us what with receiving the coveted Prime Minister's Export Award for 1998 and all…

Initiated by former Prime Minister His Excellency Anand Panyarachun in 1992, the award -- given in recognition of overall product excellence-serves to motivate Thai exporters to develop original product designs under their proprietary brands.

"I believe that winning this award illustrates just how committed we are in offering quality to our customer. Quality that stands up to the scrutiny of international standards" said Soonthorn Kraitrakul, Inter-Krai Managing Director.

Copyright ©2000 Inter Krai Co.,Ltd Powered by eighteggs.com